The Rothar Cycling Club's 4th Annual Charity Cycle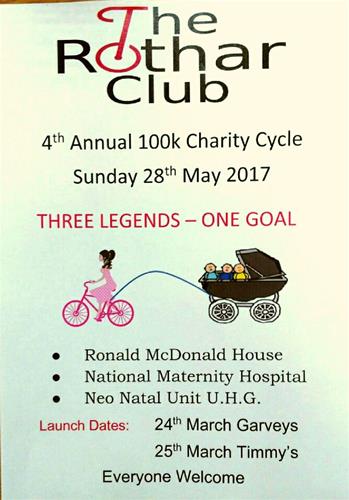 We are delighted to announce that the Rothar Cycling Club's 4th annual 100km Charity Cycle will this year support Ronald McDonald House, The NMH Foundation and The Neo Natal Unit UCHG. Thank you so much to all involved for this incredible support!

The organisers of the event told us that all these organistaions were of huge support to Francis & Siobhan Madden on the births and after care of Callum, Zach and Frankie.

EVENT DETAILS:

The event is a 100km leisurely cycle at a easy pace through east Galway and beyond passing through Ballinasloe, Shannon Bridge, Eyrecourt and Kiltormer back to New Inn.

CYCLE ROUTE:

Start and finish is at the community centre in the heart of New Inn village

https://www.strava.com/routes/4441473
...
REGISTRATION OPENS:

Registration is open on the day starting at 8am and it is €30 plus €5 for non cycling Ireland members.

EVENT START TIME:
Set off at 9.30 am!

EVENT SIGN ON
Sign on will be in the community centre with two separate sign on sheets for cycling Ireland members and non cycling Ireland members.

What you get:
1. You will receive your t-shirt at the end of the cycle.
2. You will also receive your event identification that you must wear in order to identify you on the day.
3. Event map and emergency contact number.

CAR PARKING:
There will be parking available at the community centre.

EVENT SAFETY:

NB: The Rothar cycling club cycle is not a closed road event and you must adhere to the normal rules of the road.

• Cycling on the route is maximum of two a breast.
• The event is a sportive and NOT A RACE and you are responsible for your own safety and the safety of others on the road.
• Your will receive an event map and key safety details at event sign on.
• The route selected for the circle are generally quiet roads but you will encounter some main road junctions. Be please aware of traffic on all roads.
• Marshals will be evident throughout the route. Please remember marshals are there to assist and instructions given MUST be followed.
You must check for oncoming traffic at all junctions.
• All participants will be provided with an emergency contact number in the case of an emergency on the route.
• You are responsible for taking part in the event on a safe and suitable bike. Participants are responsible for their own bike maintenance. There is limited mechanical support system will be in place and will sweeper throughout the route.
• Please ensure you have spare tubes in the event of a puncture and do not rely on the emergency number for help with changing punctures etc.
• No earphones permitted.
• No tri bars permitted.
• NO HELMET NO CYCLE.

FEED STATIONS:

At 30 km at Shannon Bridge there will be the first food stations.
At 60km at Eyrecourt there will be the second feed station.
And a BBQ at the finish for participants.

We recommend that you also bring your own supply of water gels and food also.

FIRST AID:
Ambulances and first aiders will be available all day, should anyone require medical assistance it will be administered in the fastest possible time frame. Please call the emergency contact number provided on the day for medical emergencies.

WHAT TO BRING:
Your bike must be in good working order to cycle for the 100km route
– Helmet.
– Water bottle (s).
– Spare tubes and a puncture repair kit.
– Mobile phone with credit.
– Emergency money & ID.
– Energy snacks.
– Wind / Rainproof top – Participants must be aware that weather conditions in this area can change and you should bring appropriate clothing to keep warm in any adverse weather.
– Sunblock – we hope you will need plenty of this.

AFTER THE EVENT:
After the event there will be handed out your charity T shirt and there is a free BBQ laid on for everyone.

SHOWERS:
Showers will be provided the centre
Please be aware that these facilities have a maximum capacity and you may be in a queue.