As a friend of The NMH, you know that there is no greater joy in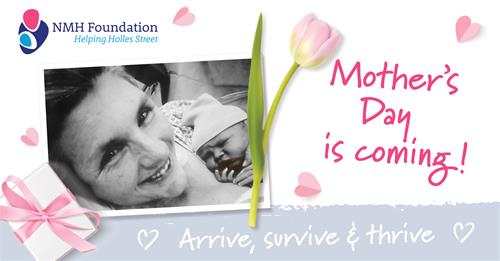 this world than welcoming a child into the family, and all mothers should be celebrated and cherished.   
This Mother's Day (14th March), we want to celebrate all generations of mothers. We have created a Special Personalised Animated Mother's Day eCard for you. Send this special eCard to remind your mother, wife, partner, sister or friend that you celebrate motherhood as much as we do! 
Your donation this Mother's Day will help The NMH to stay up to date with the latest lifesaving advances, in delivery and technology, helping mums and their precious babies arrive, survive and thrive for generations to come. 
How it works:
Donate €20 or more on our website (click here) and receive your Mother's Day eCard. (Within 24 hours on business days)

Write your mum's name in the comment box on the donation page.

We will email you, your Personalised Animated eCard with your name and your mum's name. 

Save your Personalised Animater Mother's Day eCard on your phone or computer, and send to your mum by email or text and wish her a very special Happy Mother's Day this March!