The NMH Foundation Bereavement Fund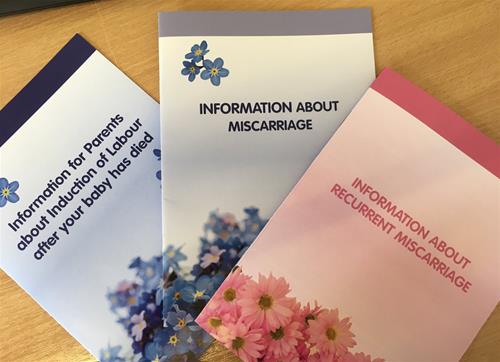 The NMH Foundation Bereavement Fund has been set up to support the projects and initiatives planned by our Chaplaincy Department and Bereavement Midwives.  The death of a baby during pregnancy represents a huge psychological challenge for expectant parents. Every parent's experience is individual and every circumstance unique but the death of a baby at any stage of pregnancy can inflict a grief that is deeper and lasts longer than most people realise.
Many parents have expressed that they never knew it was possible to feel such sadness and that their lives have been turned upside down. Parents experience all sorts of emotional and physical reactions following the death of their baby, some of which are unexpected.
The devastating nature of losing a baby cannot be altered; however the appropriate care, interventions and support can help facilitate an uncomplicated grief trajectory.
With this in mind, we would like to thank our supporters for their generous donations. It is as a result of these funds that we have been in the position to improve the service we provide to bereaved parents in the National Maternity Hospital. Some of the projects that have been completed to date include:
The purchase of information booklets on miscarriage, recurrent miscarriage and induction of labour which meets the specific needs of bereaved parents around the time of diagnosis.
We recently purchased a number of overnight beds allowing a partner to stay at a Mothers bedside.
Our various size Moses baskets and babygros have allowed those parents who chose to use them, with the acknowledgement that their babies are special and facilitates babies be dressed in clothes appropriate to their size.
Our recently purchased baby bath provides parents with an opportunity to bathe their baby if they so wish; one parent acknowledged that this was a hugely cathartic experience for her and along with the photos taken at the time contributed to her memory making.
Our supply of books on pregnancy loss, the death of one twin, navigating the grief process and advice/ workbooks for siblings are much appreciated by parents who chose to read them.
Our most recent project has been the design and implementation of a beautiful bag encompassing a snowdrop image...the symbol of hope. These bags are used to carry mementoes.
These projects have been implemented in an attempt to make small but significant changes to support our most vulnerable group of patients. Without the generosity of our supporters this would not have been possible.
Discussions are currently underway regarding projects for 2018, including refurbishment of the mortuary chapel. It is the vision that these endeavours will be a stepping stone in the pathway for meeting the unique needs of parents in a moment in time when their lives have been shattered.
Should you require advise or support in relation to pregnancy loss or bereavement you can contact the Clinical Midwife Specialist in bereavement in the NMH on +353 (1) 637 3225 or bereavement@nmh.ie & the Bereavement Chaplaincy Department on +353 (1) 637 3121 /637100 or chaplain@nmh.ie.
The 2018 NMH Annual Remembrance Service will be held on Sunday October 7th at St. Andrews Church Westland Row.