Meet mum Áine who tells her story about baby May who was born during the lockdown last Spring.
12th May 2020; Ireland is in the middle of a nationwide lockdown when our pandemic baby May is born in the comforting surroundings of The National Maternity Hospital, Holles Street.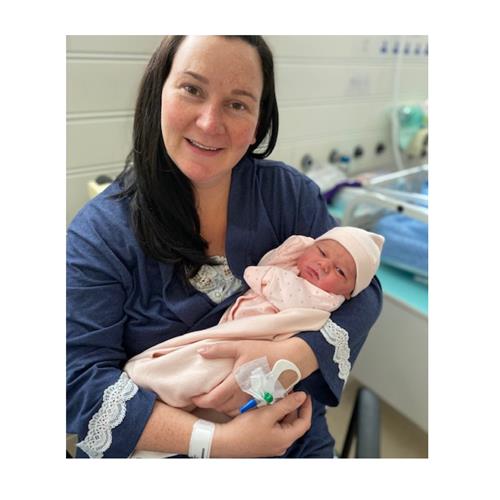 I had barely left the house in the previous 8 weeks, so the trip to The NMH was strange in lots of ways; the empty streets, the checkpoints, the ever-present fear of the virus. But as soon as I went through the doors of Holles Street, to be welcomed by friendly porters and admissions staff, I knew I was in safe hands.My partner Declan waited in the sun in Merrion Square until it was time for May to arrive by planned section, he gowned up and joined me in the operating theatre. Within minutes May was out and placed on my chest. All the pent up emotion came flooding out in tears of joy. She was here! We were able to spend another hour together after the operation and then I returned to my room with May. We spent 5 nights at The NMH and Declan didn't get to see May again until the day we went home. We missed him and my two-year old terribly. But there was an upside to not having any visitors in the hospital. We figured out breastfeeding, with the e
ndless patience and encouragement of the midwives and lactation consultants. We got to know each other, May and I spent most of the day recovering in bed. I ate like a queen and thoroughly enjoyed having my meals brought to me. I came to realise how tense I had been in the weeks before the delivery and I was in awe of the staff who carried on with their duties as if nothing had happened. They made life in the hospital so normal and safe that it was easy to forget the concerns that lived outside those walls. 
May had to spend a night in the NICU, just like her brother had two years previously. The feeling of despair at having to hand over your tiny baby is something no parent ever wants to experience. I find it hard to express how thankful I am to everyone who looked after us; you are quite literally at your most vulnerable so kindness is everything. Things that might seem so insignificant to the staff are so important when you are emotional and fragile; that helping hand when you want to have a shower, the extra scone on the tray, the encouragement when you finally get the baby to latch.
Holles Street is a special place and I will always be grateful to the wonderful staff who work there. It's where my babies drew their first breath and where I became a mother.