"Mabel is my first baby and she made an entrance we'd never forget!
I was diagnosed with gestational diabetes early on but managed it well and in general had a "normal" start to pregnancy.
At my 20-week anomaly scan, the sonographer noticed that my baby was measuring smaller than the dates given based on earlier scans. We were asked to come in and check in again two weeks later. It was confirmed that I had a reduced flow from the placenta, I was monitored by the lovely Heather and Barbara several times a week depending on how each scan went (those two ladies were so kind and caring throughout) - having those familiar faces that knew my situation, made a world of difference! 
Dr Jenny Walsh soon became my consultant - little did I know how huge a role she'd play in our journey! Dr Jenny met with me regularly when I had my scans until one day she decided it was best that I come and stay in The NMH (at 29 weeks pregnant).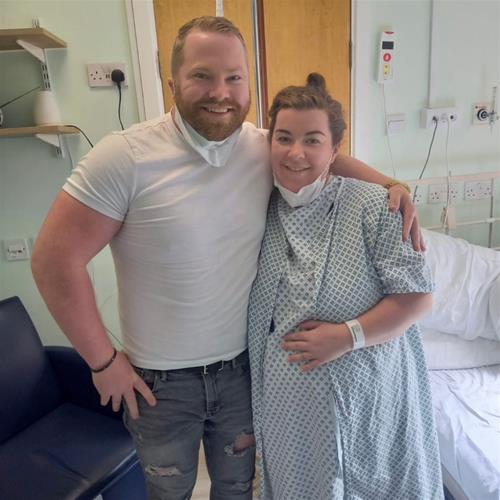 It was inevitable at this point my baby was going to be a planned C-section when the time was right. I packed my bags and moved into the Antenatal Ward and wouldn't be leaving until I had a baby! I was monitored heavily everyday which gave me so much comfort! The staff on the ward took care of me so well, always going above and beyond!
The neonatal team came and met me to give me a run through of what to expect when my baby arrived, where she'd be going, although there was so much going on, there was no question left unanswered, I was given all the information that was available! 
I met anaesthesiologists, doctors, and anyone else that would be involved to walk me through the measures that would be taken for mine and Mabel's safety - we decided a general anaesthetic C-section was best for a number of reasons. 
Then, the day finally came, Dr Jenny was giving me a routine ultrasound and we decided I'd have my baby the next day! My flow had become absent and it was no longer safe to keep my baby in there! We made it to 33+6 weeks! My husband, Seamus, was kept in the loop and guided through the day as I wouldn't be able to meet my baby for a day or so post C-section and anaesthetic.
That's when Mabel arrived weighing just 3lb6oz! She was brought into the world safely by the wonderful Dr Jenny - with the support and guidance from a very special midwife!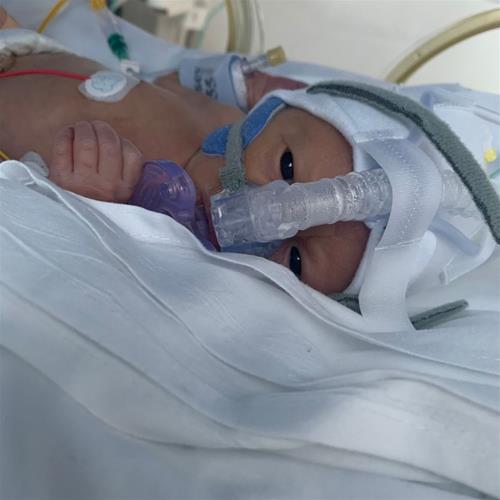 Mabel received the highest level of care from the team in ICU 3 - she spent 4 weeks there until graduating to HDU for 1 more week! 
I don't think I will ever be able to describe how difficult the NICU is for a parent to be - the monitors, wires, tubes, alarms and lights etc. But I know it would have been a thousand times harder without the specialist care and support that was provided!
When I was discharged, I was also able to see Mabel via an Angel Eye Camera* provided above her incubator so I could check in throughout the day before and after visiting! This was a huge comfort given that I lived an hour away from the hospital!
I had great support in caring for Mabel myself where possible and received great guidance from the breastfeeding consultants, physio & midwives in the NICU.
I feel I owe everything to The NMH - for their care for me during my pregnancy along with monitoring and preparation, and the intense care Mabel received!
After 5 of the longest weeks, we got to bring our girl home to start our lives together! 
Thanks to the NMH, my placenta was sent away and examined, which led to the conclusion that in the future I can potentially have another healthy pregnancy without the same issues.
Mabel is now almost 8 months old and thriving at an amazing 16lbs! A laid back, happy and healthy girl! 
We took part in the December dip and raised €2,070 to support the amazing work that the NMH Foundation does in the hospital, but I feel I'll never be able to thank them sufficiently for all they've done for our family! ❤️"
Thank you so much Amber and Seamus for sharing your personal story with us all. Your support to the NMH Foundation enables us to support families like yours with items like the Angle Eye Camera.