Learn some more about where your money goes.
Thank You for helping women and newborns thrive, arrive and survive! 💕
Your support helped us to achieve so much last year. You are making an impact on women and babies at The National Maternity Hospital (NMH).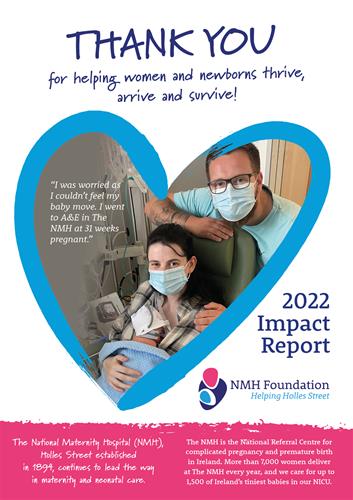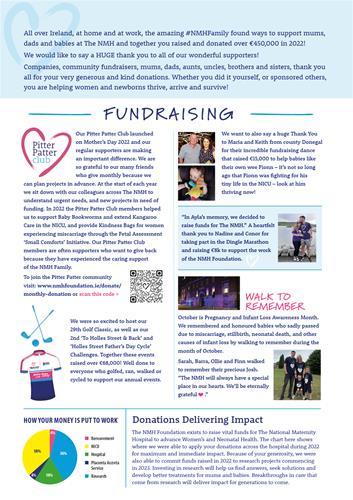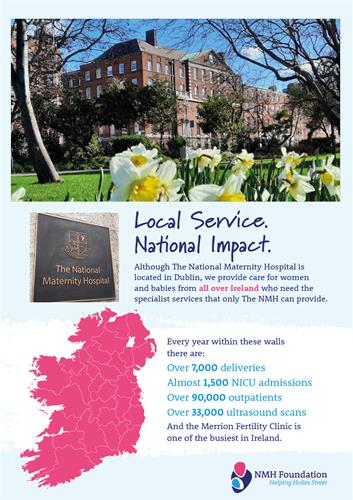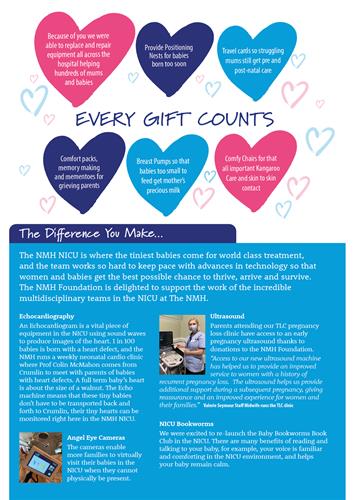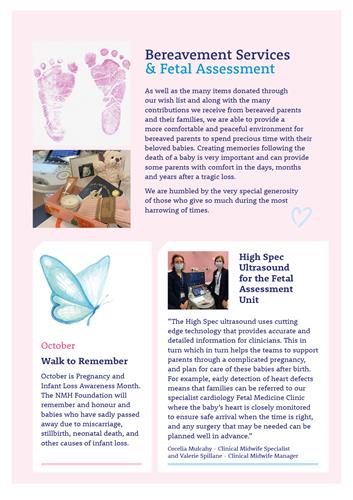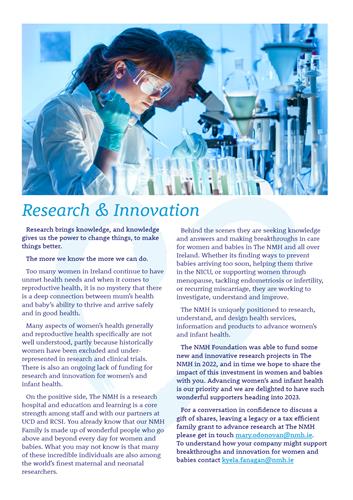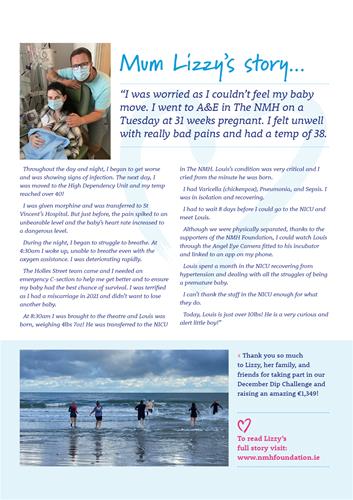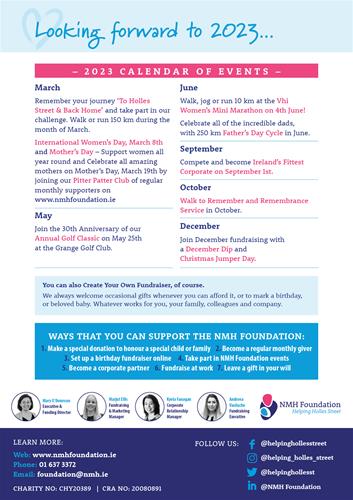 Thank you!
Our wonderful staff continue to find innovative ways to deliver the most excellent service and care to women and babies with their compassion, expertise and dedication. Your donations make it easier for them to do the amazing work that they do. It's as simple as that. We can't thank you enough for your kindness and generosity.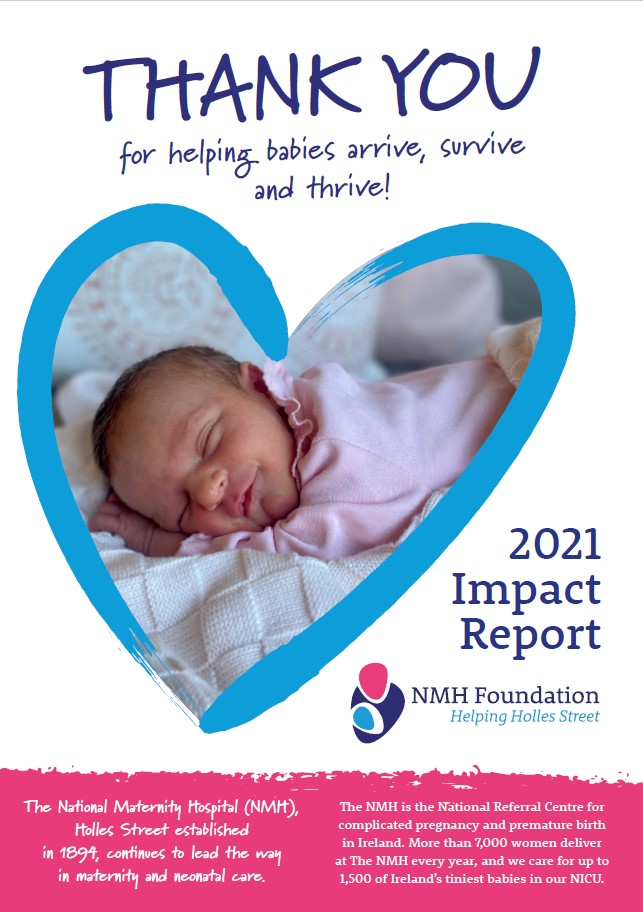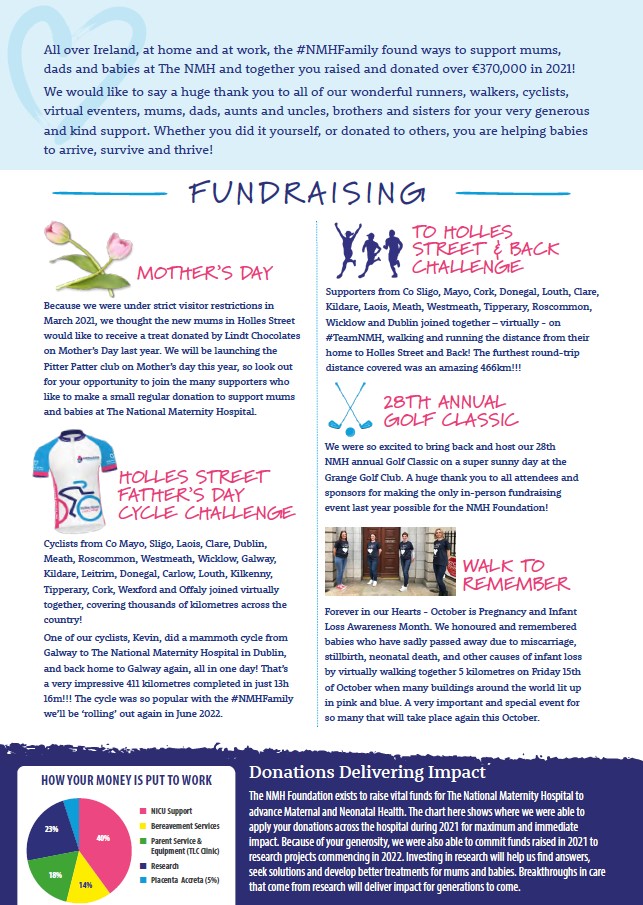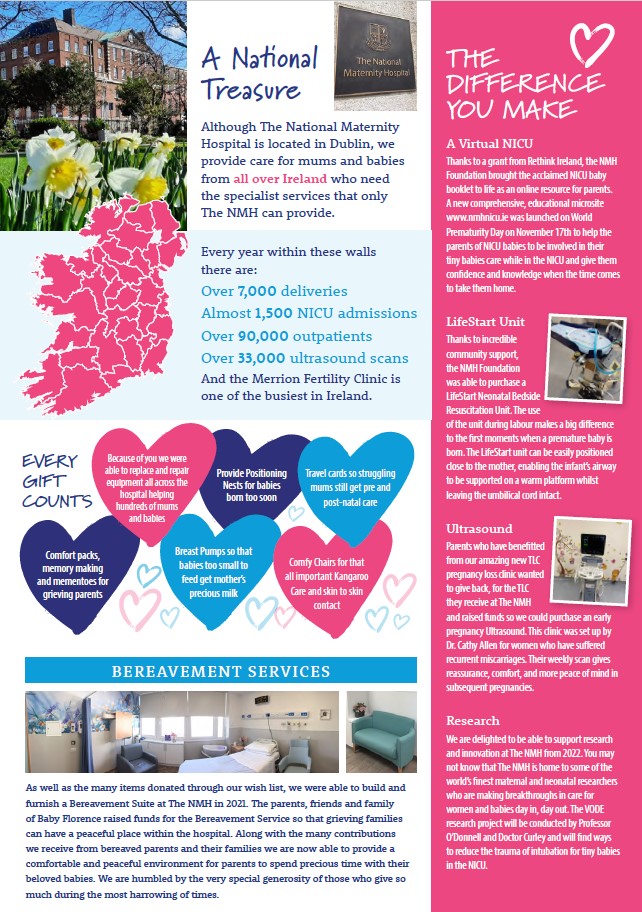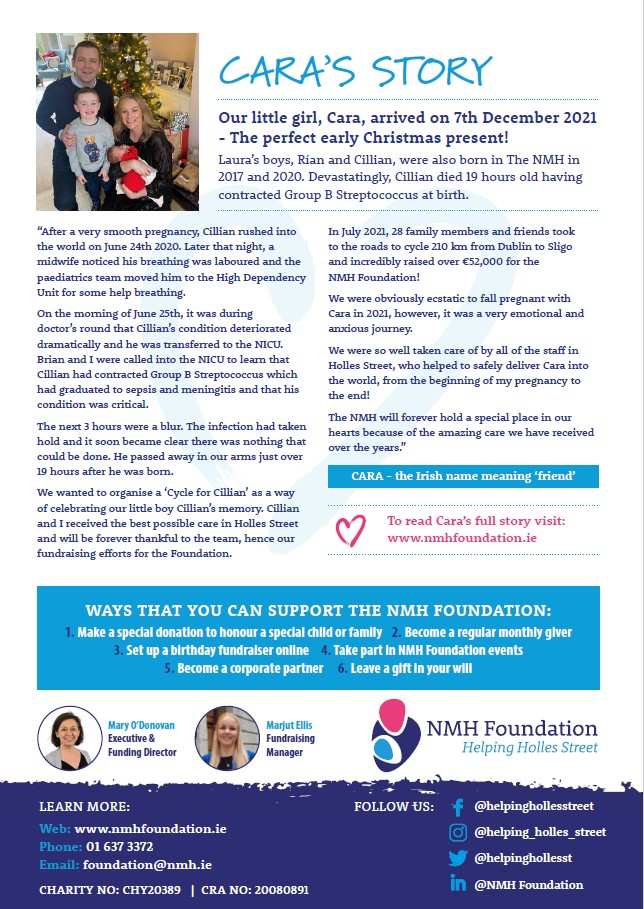 Thank you for helping babies arrive, survive and thrive!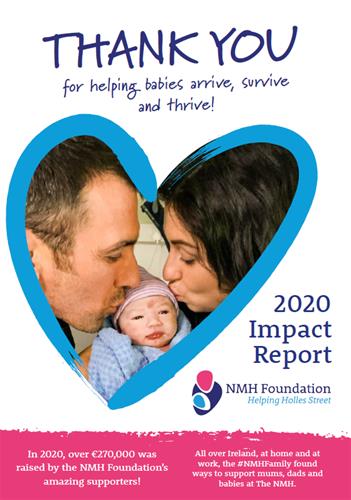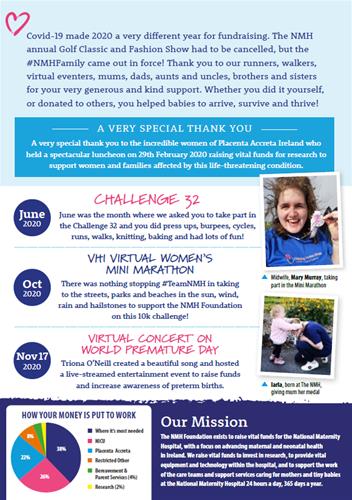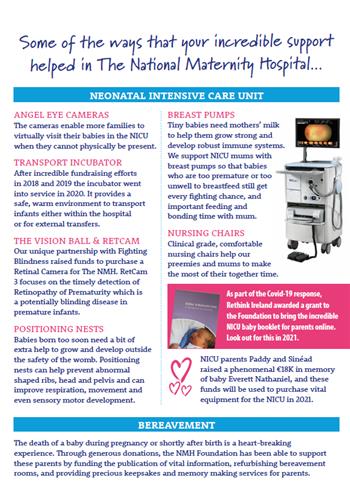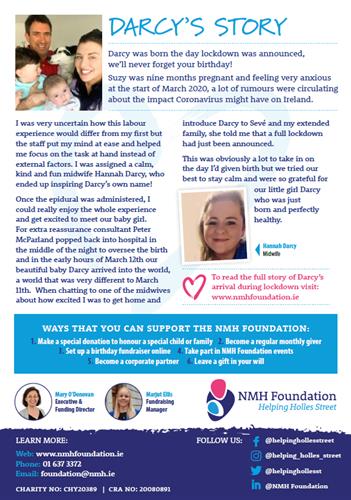 Driven by our desire to help babies to arrive, survive and thrive, our focus is on advancing maternal and neonatal care in Ireland. With our partners and community supporters, we raise vital funds to invest in research, vital equipment, technology and support systems within the hospital. 
Your support has made it possible for us to provide equipment, treatments, specialist care and support to Ireland's busiest maternity hospital that delivered more than 8,000 babies during 2019, with 35 babies born in one day alone!   
Thank you for your support!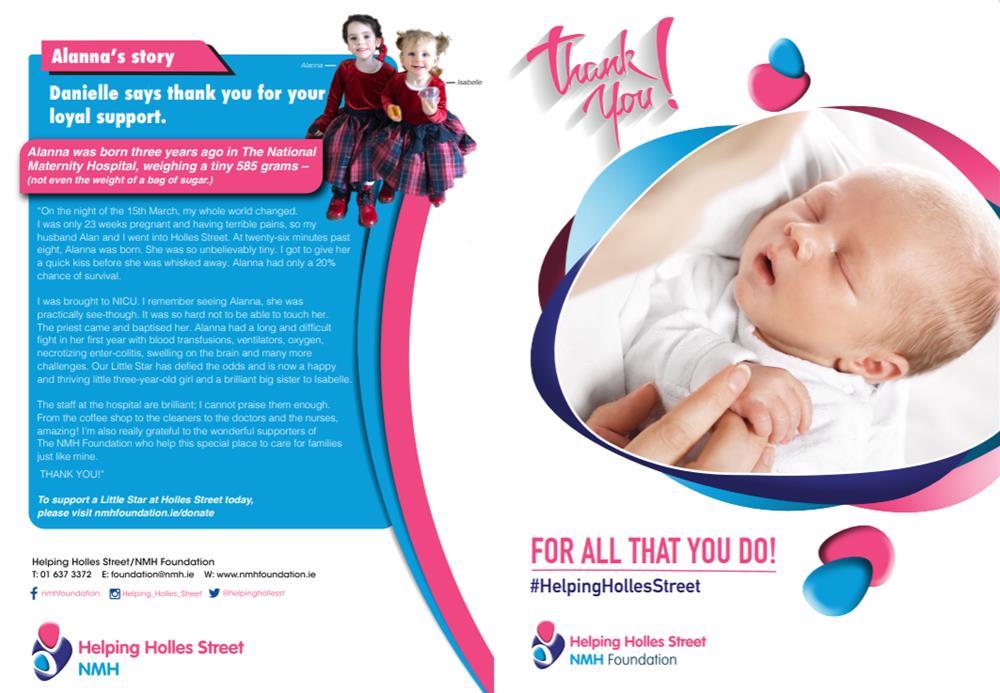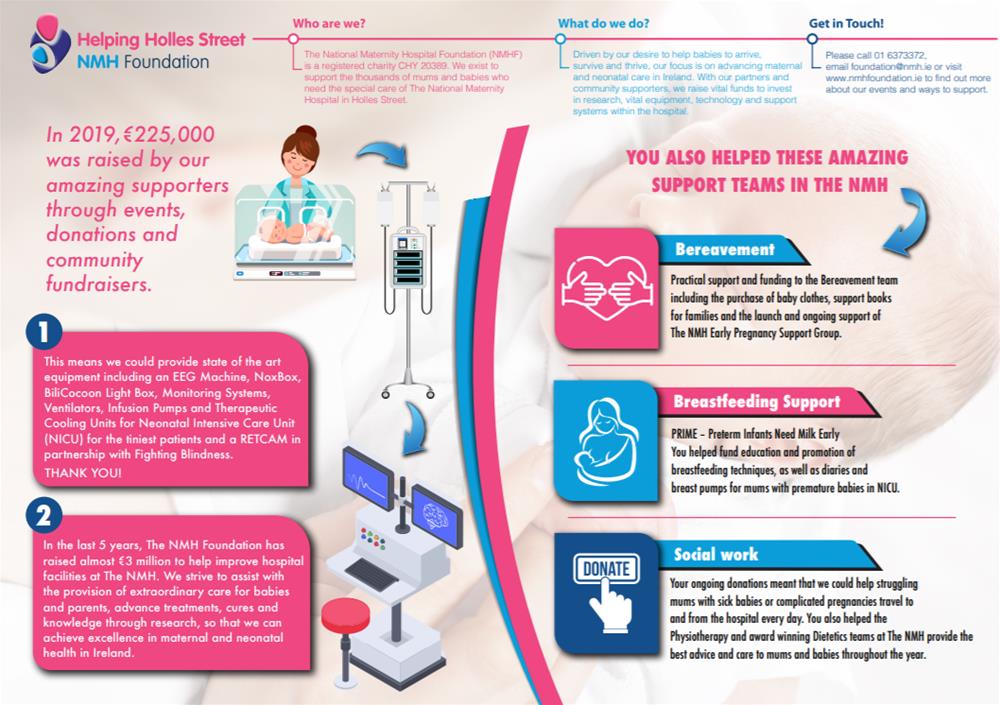 Bereavement Services
The NMH bereavement team are among the most kind, compassionate and professional people you'll find on this island. The death of a baby during pregnancy or shortly after birth is a heart breaking experience for parents and their family. The devastating nature of losing a baby cannot be altered. Care and support can help facilitate parents' grief journey. The bereavement team support parents following the loss of their babies on an individualised basis. Creating memories following the death of a baby is very important and can provide some parents with comfort in the days, months and years after.

The NMH Foundation has been able to support these parents in small but important ways. Sarah Cullen, Clinical Midwife Specialist in Bereavement talks about some of the ways here: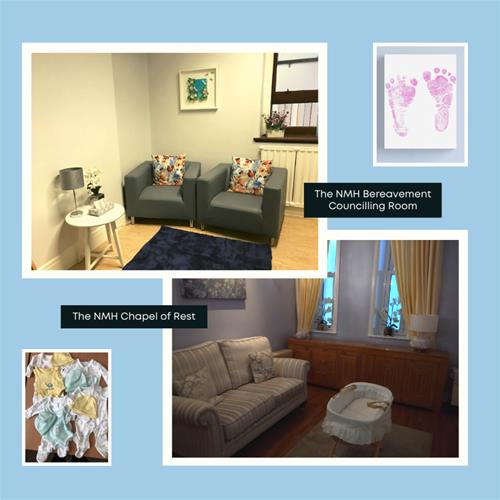 "The NMH Foundation has allowed us to expand our memory making services, providing a photography service for parents with photo albums and photo frames to display these precious photos for parents.
Being able to wash and dress their baby in appropriate clothing is very important to parents. The Foundation has allowed us to purchase a baby bath and baby clothes in sizes to fit babies from full term to as small 1 pound.

Donations have allowed us to provide "heart beat bears" these are teddy bears with a baby's heartbeat recorded inside. They are treasured by patents.

We have recently purchased supplies to allow us make canvas prints of the baby's hands or feet and this can also include the baby's siblings if the parents wish.

Thanks to the support of the NMH Foundation we have been able to print a series of information booklets which provide, clear, sensitive information to parents at their time of loss.
The NMH Foundation also funds bereavement training for the multidisciplinary team caring for bereaved parents.

Finally, the NMH Foundation has also allowed us to refurbish a number of rooms for bereaved parents including en-suite facilities for bereaved parents during their hospital stay, the Chapel of Rest and most recently our Bereavement Counselling Room." 
Thanks to your donations, the NMH Foundation will continue to support these parents and their families during the devastating loss of their babies.
We hope to build on these projects steadily throughout 2020. If you would like to get involved with supporting Bereavement Services, please email foundation@nmh.ie
Should you require advise or support in relation to pregnancy loss or bereavement, please find conact details below:
Clinical Midwife Specialist in bereavement in the National Maternity Hospital - 01 637 3225 or bereavement@nmh.ie
The Bereavement Chaplaincy Department - 01 637 3121 / 637100 or chaplain@nmh.ie
Neonatal Intensive Care Unit (NICU)
The hospital's Neonatal Intensive Care Unit is recognised as a national referral centre for complicated pregnancies, premature babies and sick infants. It is a centre of excellence in the care of premature babies, and strives not only to improve the survival rates of extremely premature babies, but to lead in the provision of excellence in care, and knowledge through research so that babies born too soon go on to lead full and healthy lives.  
Recent Foundation purchases include hospital grade breast pumps, privacy screens, breast feeding pillows, breast feeding kits and the refurbishment of two of our NICU Breastfeeding Rooms.
We are delighted to support our NICU Parents at a time of great stress and worry. Our team in the NICU are working to encourage and further develop Kanagroo Care - the practice of promoting skin to skin contact for stable premature babies, where the baby is placed chest to chest with a parent, wearing only a nappy. The benefits of this method include:
Helps regulate baby's body temperature
More rapid brain development
Enhances successful breastfeeding
Earlier parent-baby bonding
Warmth helps calm the baby
Parent Support Services Fund
The NMH Foundation work closely with The NMH Social Work Department to improve many Parent Support Services here at The National Maternity Hospital. We know that having a baby in intensive care is one of the most stressful things a parent can ever experience. In many cases, this is further compounded by the fact that many of our parents have to travel great distances and/or spend weeks and months coming into Holles Street to be with their sick baby. 
The NMH Foundation is looking at ways to relieve some of this pressure, by working with our medical social workers to support them in their efforts to source parking and accommodation. 
With the generous help of you our supporters, we are delighted to announce that through the kindness of your donations, we have been able to purchase 5 parking passes for our Holles Street Parents as part of an NMHF initiative supporting Parent Services.
We are continuing to develop this fund and collaborate with NMH Staff to help improve our services throughout 2020. If you would like to be involved in supporting Parent Services at The NMH, please email us at foundation@nmh.ie
Research
The National Maternity Hospital believes that embedded research is an essential component to improving maternal and neo-natal care during the most vital stage of human development. Research into maternal and infant health is fundamental to progressing Ireland's future healthcare needs. It has been shown that hospitals who prioritise research, provide the best patient care, which result in more positive patient outcomes. 
The NMH continues to face many healthcare challenges including funding difficulties, overcrowding, out-dated facilities and equipment and difficulty attracting top medical staff. A well-funded and supported research programme will help us to advance complex medical issues, which are faced by maternal and infant care in this difficult environment. In addition to this, it will help The NMH to attract the most talented and curious medical minds, who are determined to help find clinical solutions to the most complex issues faced by the most vulnerable of our society.
The NMH's research focus includes critical areas such as maternal diet and nutrition, infant brain injury, delivery room care and respiratory care of preterm infants. Advances in these and many other areas will help us to advance the care of our mothers and babies.