"I was worried as I could not feel my baby move. I went into Holles St on a Tuesday at 31 weeks pregnant. I had felt unwell throughout the night from Monday to Tuesday, with really bad pains in my upper abdomen and back, and felt very warm. I had a temp of around 38 so I was advised by a midwife on the phone to do an antigen test before coming in and that was negative.
I went to A&E in The NMH and was then sent to the antenatal ward for monitoring.
Throughout the day and night, I began to get worse and my temp was spiking. I was showing signs of infection but the doctors couldn't figure out where it was coming from. I had many traces done on the baby to check on him. I had an ultrasound done as well and all looked good with my baby.
By Wednesday afternoon, I was moved to the High Dependency Unit and my temp had reached over 40! Antibiotics and paracetamol were doing nothing for the pain I was in.
I was given morphine, and was transferred to St Vincent's Hospital so that I could have a surgical team look at me. But just before I was meant to be taken there, the pain spiked to an unbearable level and due to the stress I was under the baby's heart rate increased to a dangerous level.
I needed more morphine to be able to cope in the ambulance. I was then taken to St Vincent's with a brilliant midwife Debbie. She really helped keep myself and Alex calm during such a difficult time.
When I arrived, I was told that I had I had sepsis and needed to have a CT scan to find the cause of the infection. I was extremely upset more about having to get a CT scan while pregnant. I was so sick that I didn't even take in the sepsis part until I had to ring my parents to tell them. 
I had the CT scan and also an X-ray. The doctors told my partner Alex that they could see an infection in my chest, but the baby was blocking them from having a clear view of my lungs and stomach.
During late Wednesday night, I began to struggle to breath. On Thursday at 4:30am, I woke up unable to breath even with the oxygen assistance. I then had to have warm oxygen to open my lungs as a part of my lung had collapsed. The nurse rang Holles St and my partner, to inform them to get to St Vincent's as I was deteriorating rapidly. I was too ill to be moved The NMH.
The Holles St team, including Prof Higgins, came and told me I need to have an emergency C-section to help me get better and to ensure the baby had the best chance of survival. I was terrified to have a section so early as I had a miscarriage in December 2021 and didn't want to lose another baby.
Alex and my family arrived at the hospital and at 8:30 am I was brought to the theatre for my section where Prof Higgins noticed a rash across my abdomen which turned out to be chickenpox, not something to expect at the age of 26.
Louis was born in St Vincent's that August morning, weighting 4lbs 7oz! He came out crying and was transferred to the NICU in The NMH.
Although we were physically separated, thanks to the supporters of the NMH Foundation,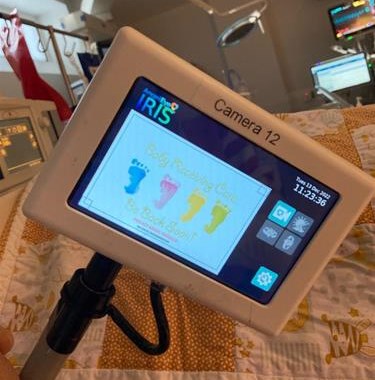 I could watch Louis through the Angel Eye camera fitted to his incubator and linked to an app on my phone. 
I had Varicella (chickenpox), Pneumonia and Sepsis, and I was in isolation and recovering. I had to wait 8 days before I could go down to the NICU and meet Louis which was extremely upsetting. I also missed his first nappy change, his first bottle and his first bath which still upsets me 3 months later. As Alex had already had chickenpox he was allowed to visit both me and Louis.
Louis spent a month in the NICU recovering from hypertension and dealing with all the struggles of being a premature baby.
I can't thank the doctors and midwives in the NICU enough for what they do. I also want to thank Prof Mary Higgins as she was a massive support to me. Even though I was a half hour away from needing a ventilator as soon as she came into the room, I felt completely safe and knew she'd do everything she could for me and Louis.
Today, Louis is just over 10lbs! He is a very curious and alert little boy!"
We want to say thank you so much to Lizzy for sharing her very personal story and taking part in the December Dip to support the NMH Foundation!