Remembering Ayla 💗💙 🦋
Nadine and Conor have experienced the deliveries of two beautiful children here in The National Maternity Hospital. They have kindly shared their story in order to support the work of the NMH Foundation and to reach out to other families who have experienced the loss of a beloved baby.
"21 months ago our lives were turned upside down forever, when we lost our beautiful baby girl Ayla.
39 weeks and 2 days into our first pregnancy we started the day in dreamland. Nearing the end of a picture perfect pregnancy, we were all full of excitement when Nadine went into labour.
We had our bags packed by the front door and were ready to head in to The NMH when out of the blue Nadine experienced an excruciating pain.  We just knew this wasn't right and so we called for an ambulance that rushed us to The National Maternity Hospital.
Although we were concerned, we were not ready for what was to come next. The medical team were calm and quiet while checking Nadine and the baby when we arrived. After trying with three different monitors, came the following words that shattered our souls "I'm so sorry there's no heartbeat". We were in disbelief, nothing felt real. 39 weeks and 2 days of euphoria and it was all taken away in an instant. We were pinching ourselves, it felt like a nightmare and we were trying to wake up.
Before we knew it, it was a race against time to save Nadine's life. Nadine had suffered a complete Placental Abruption and it was crucial to deliver our baby as soon as possible.
Realising the severity of Nadine's situation, the staff responded promptly in an army of numbers.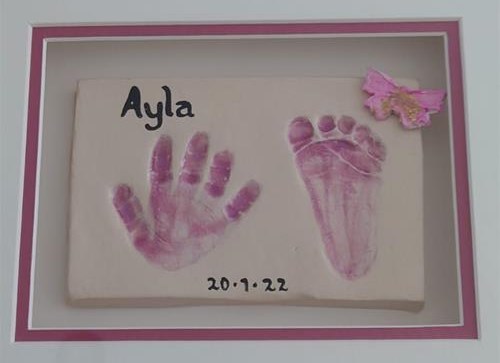 Superheroes we can never thank enough, all played a huge role that night. After several hours, Dr Jenny Walsh gently placed our beautiful daughter Ayla, born sleeping into our arms.
Only for the amazing staff at The NMH, Nadine would not be here with us today. They saved Nadine's life and we are forever grateful to each and every one of you everyday Superheroes.
Losing a child is something no parents should ever have to experience, the pain is unimaginable.
Ayla was the most perfect little princess that we could have ever wished for. Ayla made us parents for the first time, and it is such an honour to call her our baby girl. Ayla continuously sends us signs that she is all around us and we feel her presence each and every day.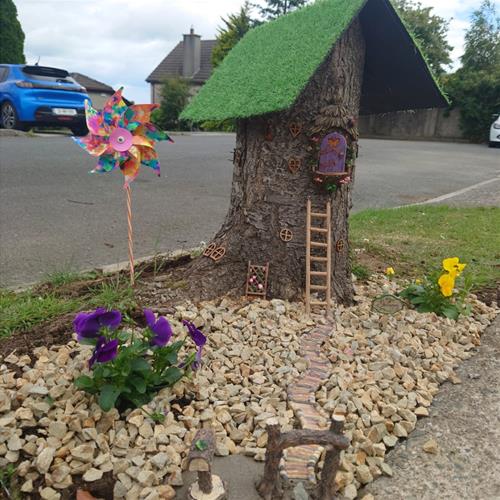 The NMH Bereavement Midwives helped us through the toughest moments of our lives. We keep Ayla's memory alive every day. It's very important for us to talk about Ayla and help create memories in Ayla's honour. We have created a little garden and fairy house in Ayla's memory where our little robin loves to visit.
We also organised a fundraiser for the NMH Foundation as we wanted to show our gratitude and help other families. Our family and friends took part in the Dingle Marathon last year in Ayla's memory.
Ayla has since sent us the most precious gift, Ayla's beautiful baby brother Dion. We are so happy and cherish every moment with him. Dion will always have the best big sister looking over him.
We would like to thank The National Maternity Hospital from the bottom of our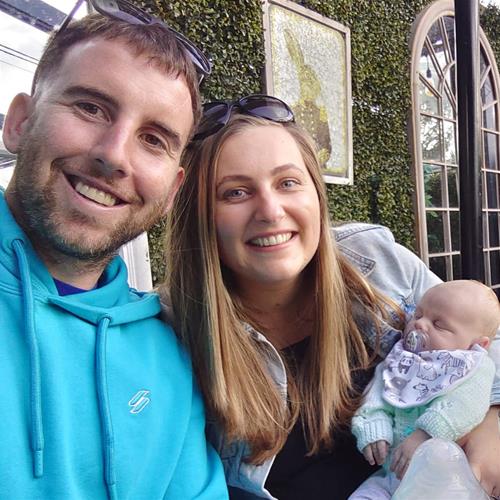 hearts for their phenomenal support throughout Nadine's pregnancy with Dion. Doctor Jenny Walsh and her amazing team somehow kept us calm, set up a plan and delivered our little bundle of joy safely into our arms."
Conor and Nadine ❤️
You can join our 'Walk to Remember' and walk 100,000 steps in October by joining our private Facebook group to sign up: https://www.facebook.com/groups/walktoremember2023.
This fundraising event allows family and friends to honour and remember babies who have sadly passed away due to miscarriage, stillbirth, neonatal death and other causes of infant loss by providing assistance to other families grieving their loss. More info here.