To Holles Street & Back Challenge 
Are you looking for a new fun challenge?
Take part in this challenge by walking or running virtually the distance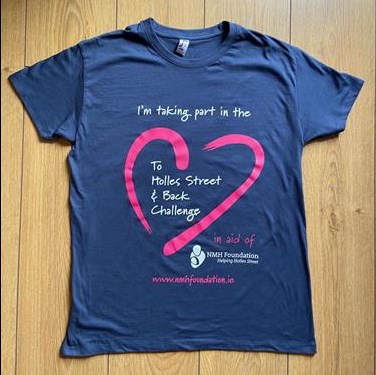 from your home 'To Holles Street and Back' again.
E.g Howth to Holles Street & back 35km – You can do this distance over a week and it's only 5km per day :) Or do it all in one day for a bigger challenge! :)
Check on google maps the distance to Holles Street and back, and that distance will be your target.
Depending on where you live, you can walk / run every day, or do the kilometres over a week, or in a month.
Walk / Run to support the NMH Foundation and help babies arrive, survive & thrive in the National Maternity Hospital.
Join with these 3 simple steps:
Join our private Facebook Group and share your photos with all #TeamNMH members here:  www.facebook.com/groups/tohollesstreetandback2022
Set up a Facebook Fundraiser here: https://givepanel.me/fb/qCaB4YEG
Register for your free To Holles Street & Back t-shirt by completing your details here https://givp.nl/erf/GGEqAhnS Once you raise €25 or more, your t-shirt will be posted to you!
* Alternatively, you can set up a JustGiving fundraising page depending on your social media preference here: https://www.justgiving.com/campaign/ToHollesStreetandBack2022
If you have any questions at all or want help with signing up, please reach out to Marjut on foundation@nmh.ie or 01 637 3372 and she'd be delighted to help you.