An easy way to support the NMH Foundation is to set up a Birthday Fundraiser. Instead of gifts for your birthday ask friends, family and colleagues to make a donation to the NMH Foundation. 
If you would like to set up a 'Facebook Birthday Fundraiser' to support the NMH Foundation, for yourself or for your baby / child's birthday (all ages welcome!!), please login to your Facebook account and click here to set up your page:
https://www.facebook.com/fund/helpinghollesstreet/
Or, you can always contact Marjut, in the Foundation, by emailing: marjut@nmhfoundation.ie or phone: 01 637 3372 and she will be delighted to help!
Cathy's Fundraiser
For her birthday, Cathy wanted to show her appreciation by setting up a 'Facebook Birthday Fundraiser' to support the NMH Foundation. Thank you so much for your incredibly kind support Cathy, and a huge well done in raising €1,248! This support will help babies like Ben arrive, survive and thrive. Read her story here: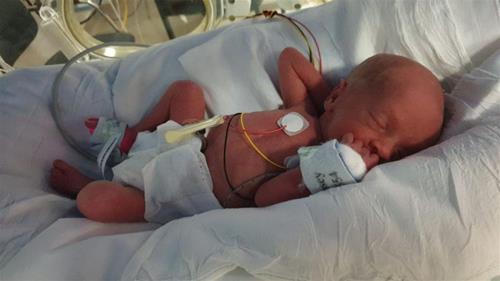 In August 2020 little Ben from Mullingar arrived 9 weeks early weighing just 3lb 10oz, to mum Cathy and dad Kevin. Cathy wanted to say a massive thank you for all the help they received from the emergency admissions and staff in the hospital, from when Ben arrived, right through until they were transferred back to Mullingar!

"It was hard to be so far away from home with no visitors, but the friendly staff had me feeling very comfortable and we managed to have the odd laugh too! My stay in The NMH was so relaxing and the midwives were so helpful and kind to me.

Ben spent two weeks in the NICU. I am so appreciative of the level of care, hard work and support we got from the minute Ben arrived, and because of this I wanted to give back something by doing some fundraising for Holles Street. People don't realise what goes on behind the door of the NICU until you enter it. I was very scared to see Ben for the first time as I was in ICU myself for two days so I was an emotional wreck, but I was soon reassured when my doctor met me at the door and said:

"Your Ben's mammy, ignore the wires. He's doing just fine."

That made me so relived and I could breathe again, instead of bursting into tears.

I am forever grateful for the care we both received on his early arrival, and during our recovery."

❤️