Our little girl, Cara, arrived in December 2021
- The perfect early Christmas present!
Laura's boys, Rían and Cillian, were also born in The NMH in 2017 and 2020. Devastatingly, Cillian died 19 hours old having contracted Group B Streptococcus at birth.
"After a very smooth pregnancy, Cillian rushed into the world on June 24th 2020. Later that night, a midwife noticed his breathing was laboured and the paediatrics team moved him to the High Dependency Unit for some help breathing.
On the morning of June 25th, it was during doctor's round that Cillian's condition deteriorated dramatically and he was transferred to the NICU. Brian and I were called into the NICU to learn that Cillian had contracted Group B Streptococcus which had graduated to sepsis and meningitis and that his condition was critical.
The next 3 hours were a blur. The infection had taken hold and it soon became clear there was nothing that could be done. He passed away in our arms just over 19 hours after he was born.
We wanted to organise a 'Cycle for Cillian' as a way of celebrating our little boy Cillian's memory. Cillian and I received the best possible care in Holles Street and will be forever thankful to the team, hence our fundraising efforts for the National Maternity Hospital Foundation.
In July 2021, 28 family members and friends took to the roads to cycle 210 km from Dublin to Sligo and incredibly raised over €52,000 for the NMH Foundation!
We were obviously ecstatic to fall pregnant with Cara in 2021,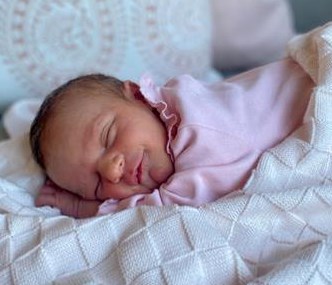 however, it was a very emotional and anxious journey.
We were so well taken care of by all of the staff in Holles Street, who helped to safely deliver Cara into the world, from the beginning of my pregnancy to the end!
The NMH will forever hold a special place in our hearts because of the amazing care we have received over the years."
CARA - the Irish name meaning 'friend'