A chara, 
This year, for the first time I did a charity challenge. I wanted to raise funds for my 'family' you see. That is to say, my family at The National Maternity Hospital. I have so much to be grateful for, I wanted to give back, even in a small way. 
My own family is only here because of them. My beautiful twin girls, Fíadh and Mila. It's humbling to the heart just to see and hear them. I look forward to getting home from work. It's the best part of the day. I see them at the door in their walkers and full of smiles to see me. It makes me think about all of the mams and dads in Holles Street right now and how if it wasn't for the amazing care we all got last year Fíadh and Mila might not be here smiling and bouncing at me. 
When I found out I was pregnant I went straight to Holles Street purely because my family and friends have had pregnancies there, so the NMH was a clear runner. And then when I walked through the doors for my first big scan, the smiling faces and calmness of the place just sealed it for me.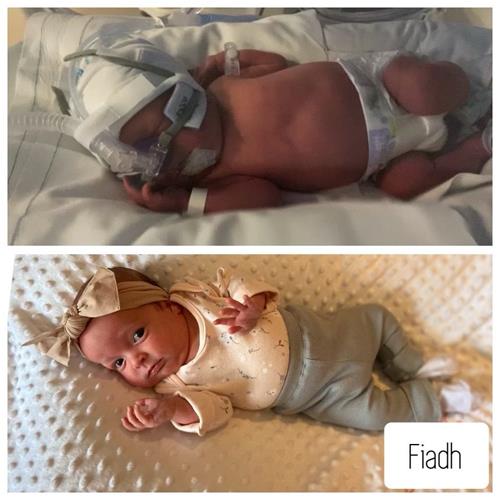 It wasn't until my 12-week scan that I actually found out I was having twins. I rang Kevin in work "are you on your own I need you to sit down. I said 'look we're having identical twins, that is the reason why I've been so ill and so poorly over the last couple of weeks'. And he just burst out in tears, he was so joyous for our parents because this was the first grandchildren on both sides of the family. 
After that though, it just seemed to be one thing after another. I was sick all of the time, hyperemesis is awful, and I had it. I was worried that the babies weren't getting any goodness because I couldn't keep anything down. I was so stressed. 
I was referred to the multiple pregnancies ward and was firmly in the 'high risk' category. That is just a whole other level. Scans, dieticians, bloods, blood pressure, constant monitoring of the twins. Mila was the smaller of the twins and was having less blood flow and nutrition so we were worried about her. 
Looking back now, I was putting a lot of pressure on myself. I didn't realise it at the time, but I can see now how Sarah and Cecelia in The NMH kept me calm, reassured me that I was being a good mum, answered any questions I had. I was such a regular in The NMH at that stage that it seemed like everyone knew me. I'd get a 'howya Megan' at the front door, and there was a couple of appointments where I was really upset with worry, and Cecelia sat me down, put her arms around me and said, 'c'mon let's have a talk and see if I can help you with your worry, because you're not leaving here sad'. I just felt wrapped around, comforted you know, like your own mam would do for you.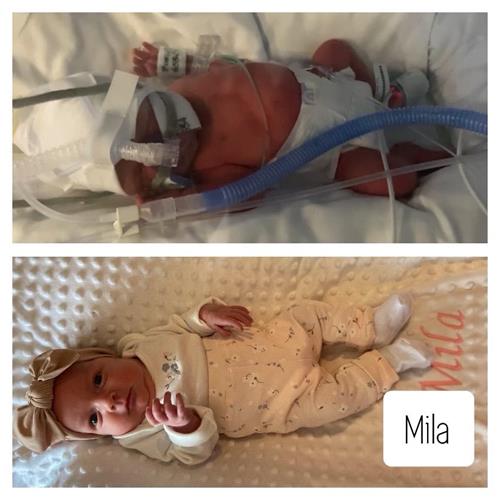 At 30 weeks, they arranged a meeting with the NICU team for us – just in case. I remember looking at all of the equipment, the beeping machines, the tiny babies and thinking, oh God, I'm not able for all of that. I found out afterwards, that the NMH Foundation helps with equipment and all sorts for the NICU, nothing can prepare you for the NICU experience, so the Foundation makes sure that everything is there for you if you need it. 
And then it happened. I was only at 32 weeks, at a run of the mill appointment and Dr Steven said there were signs of twin to twin transfusion. They caught it early, but it's so dangerous that we had to weigh up the risks between them coming early or one or both of them dying. 
And Dr Steven said to me 'unfortunately there's only so much you can do on your own from the inside, but out here there's all of us to help them grow and be nourished and loved how they need to be' 
I actually felt a bit of relief, because I had put so much pressure on myself to have this perfect pregnancy. Now it was out of my hands and I trusted Dr Steven and all of The NMH staff with my life. With all of our lives. 
I remember so clearly in that crucial moment during the emergency section having to calm myself, to quieten my thoughts and the whooshing in my ears so that I could hear my tiny babies cry – I just needed to know they were alive. 
Nothing can prepare you for how powerless you feel when your precious babies are fighting for their lives, fighting for every breath in NICU. This is where Kevin really kicked in. 
He hit it off very well throughout our journey in Holles Street with Jonathan, Dr Jonathan, in the NICU. He really was one that stood out for Kevin's journey in Holles Street as a father. I think people forget that the father goes through the journey too and the emotional rollercoaster that comes along with having not one but two NICU children. 
From the moment they were born, and for their first few weeks of life, my girls were separated from each other. We were so desperate for them to survive every day, it didn't strike me until one day we came in and Fíadh was in a cot and she just looked so tiny and alone. And there was Mila still in the incubator. 
The next week a lovely nurse named Christina suggested we re-unite them.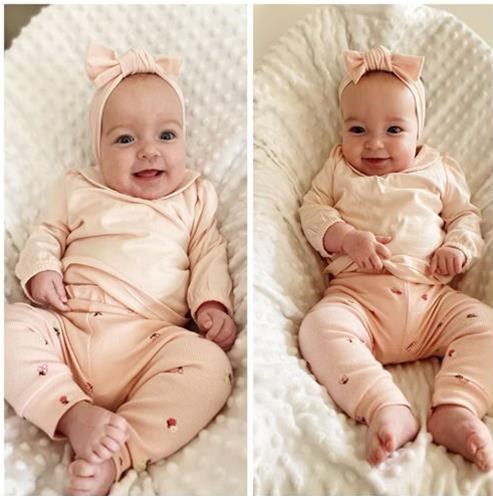 And then I saw them together and it was just like gold. I can't explain it any other way. Everything was just perfect.  It was like the whole world just stood still for a moment and they were back together and it really struck me, how much The NMH Staff really really care. 
I can't thank them enough for taking care of us, and I can't thank you enough for taking care of them. 
Our donations and support save lives every single day. My little Fíadh and Mila are literally living proof. 
Sincerely,
Megan Carey
     Please help babies like Fíadh and Mila to arrive, survive                         and thrive 💕 and click to donate here.