A Chara,
When my little Charlie was born, he was just a little dot the same size as my hand. The nurses would put him on my chest, skin to skin, for a few minutes at a time, and every time I was frightened because he was just so tiny. His eyes weren't open, and he didn't move.
When I look at the pictures now, I get scared all over again.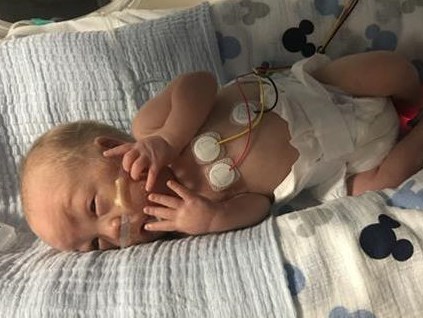 Charlie was my second baby, and Cayson, the first, was born a few weeks early, so the doctors thought Charlie might be early, too. But I started haemorrhaging badly at about 24 weeks, so to save us both, they did an emergency C-section.
When I first got to hold Charlie at about a week old, I was not in great shape myself. I needed two blood transfusions, and I was very sick. But even though I was scared, it felt so great to hold him and know he was mine.
There really isn't anything that can prepare you for having a baby only 1 pound 6 ounces. It was such a scary and upsetting time for me, but the staff at The NMH is just amazing. Just watching the care and love they give the babies is incredible. For the first couple of months of Charlie's life, they were his mammy more than I was, and I was grateful for all they did.
They treated Charlie like their own, and that always made me feel better.
I would sometimes call at two in the morning to ask how he was doing, and they would tell me, "Oh, he had a bottle half hour ago, and now he's sleeping," and it would make me feel so much better.
They never got annoyed, even when I called three or four times a night.
Charlie was born in mid-November, so when Christmas came, he was still in danger, and I didn't feel like celebrating. I wanted to be home with Cayson and my husband, but I also needed to be at Charlie's side.
It all felt so wrong. I was actually dreading Christmas.
But the staff in the NICU made such an effort to make us feel included and festive. They decorated, they sang carols, and Charlie had a Santa sock hung on his incubator, and it just made us feel so much better.
We even went to visit him on Christmas Day, me and his dad, and they shared Christmas with us like family. There's so much love and care.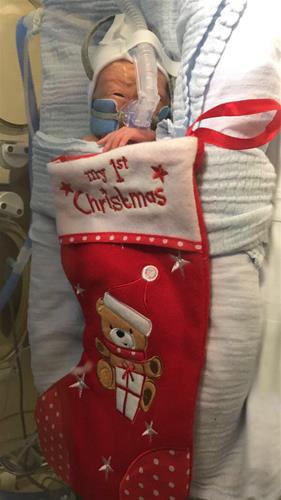 It was in early February, and Charlie had been about two weeks without a breathing tube, when they told me he could go home in a couple of days.
I was so startled I could barely breathe. When your baby is in hospital that long, it's like living in a kind of bubble. You come to trust the nurses and doctors so much, and when they said he could finally come home with us, all I could think about was just how small and fragile he was at the start … and yet how safe he was with the people at The NMH.
I couldn't sleep or eat for the next two days.
It was just about two weeks before his original due date of 28 February that Charlie came home. When we left The NMH, I cried. The NMH saved my Charlie's life, and I could never be any more thankful for that!
And I was so proud to finally bring him home so he could meet his big brother and his aunties, and everyone else. Even though he was officially three months old, he looked like a newborn.
Charlie just turned two. He has some challenges still, due to being born so early, but we're working on that. He actually walked early, and he's yapping away with his older brother, who adores him.
I'm writing because I know you support The NMH. I got to see how your support makes a difference in lifesaving equipment and all of that. You're giving daddies and mummies like me hope. You helped save Charlie.
My baby didn't ask to come into the world early, but he's doing everything he can to figure it out. Thank you from the bottom of my heart for helping to give him a chance.
                                                                        Sincerely,
                                                                       Joy Mooney
Please help babies like Charlie to arrive, survive and thrive 💕 and click to donate here.