"Darcy was born the day lockdown was announced, we'll never forget your birthday!"
Suzy was nine months pregnant and feeling very anxious at the start of March 2020, a lot of rumours were circulating about the impact Coronavirus might have on Ireland.
"By the time I arrived to the National Maternity Hospital to have Darcy the 'no visitors except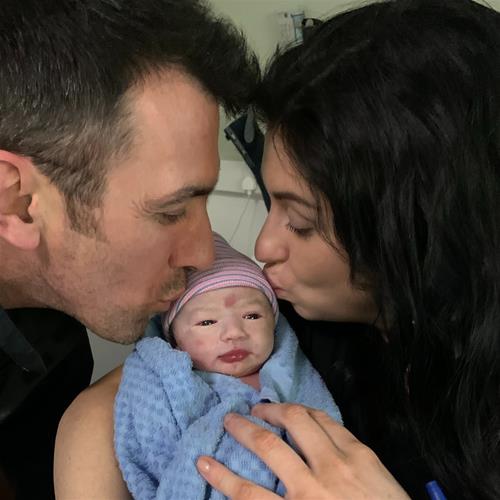 partners' rule was established, I was very uncertain how this labour experience would differ from my first but the staff put my mind at ease and helped me focus on the task at hand instead of external factors. Darcy is my second baby and I had an idea what was coming! I can't imagine how hard it must be for women arriving in and waiting around alone on their first baby, but the kindness and patience shown by some of the midwives in Holles Street is outstanding and immediately puts your mind at ease.
Once labour was established and I was really feeling the contractions, I was moved to the labour ward and at that stage all I could think about was getting this baby out! I was assigned a calm, kind and fun midwife Hannah Darcy, who ended up inspiring Darcy's own name!
Mark and I immediately felt at home and relaxed in our little labour room with Hannah,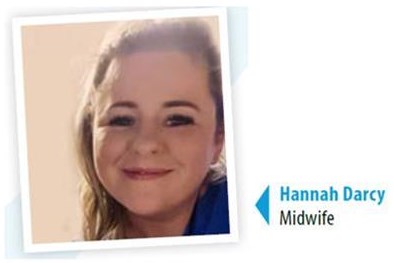 she talked us through everything that we could expect over the next few hours and encouraged me to use some gas while I waited for the epidural. The wait for the epidural can feel like an eternity as I'm sure lots of women can relate to, but Hannah helped me focus on my breathing and relax in between contractions. Once the epidural was administered I could really enjoy the whole experience and get excited to meet our baby girl, sister to our little boy Sevé, still only one at the time. A supervising midwife Mairead popped in and out to check all was going well and keep our spirits up as my energy dipped. Mairead would give any GAA coach a run for their money with her motivational pep talks and fist pumps! She definitely helped lift my spirits and encouraged me to push with all I had when the time came. For extra reassurance consultant Peter McParland popped back into hospital in the middle of the night to oversee the birth and in the early hours of March 12th our beautiful baby Darcy Dunne arrived into the world, a world that was very different to March 11th.
Once I left the labour room Mark went home and I was moved to a ward with baby Darcy.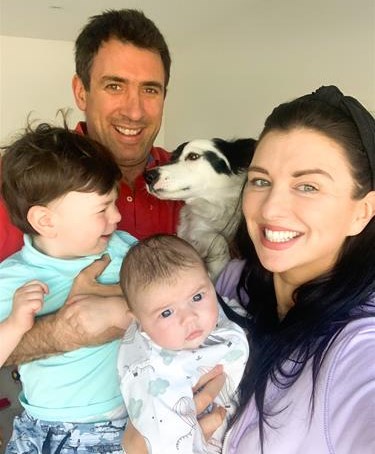 It was about 3am at this stage, a kind midwife offered me some tea and snacks which were gratefully received! I went about feeding my little girl and getting some rest and a while later when chatting to one of the midwives about how excited I was to get home and introduce Darcy to Sevé and my extended family, a midwife told me that a full lockdown had just been announced by Taoiseach Leo Varadkar from Washington. I was shocked and read online that this meant even when I got home no family could visit Darcy and Sevé's crèche would close at 6pm that day for the foreseeable! This was obviously a lot to take in on the day I'd given birth but we tried our best to stay calm and were so grateful for our little girl Darcy who was just born and perfectly healthy.
We went home and began settling into 'lockdown life' with Sevé and Darcy, the first few weeks are a bit of a blur to be honest but my sister who lived nearby dropped dinners to the door and toys to keep Sevé busy. When Sevé was a newborn, I was in my mum's house pretty much every day getting advice and a cup of tea in peace! Darcy's first few weeks were very different, but we made some gorgeous memories and Sevé has become really close to Darcy with no distractions or visitors. He turned 2 in April and even though it was just us and our dog Harry celebrating Sevé had a great time blowing out his candles on Zoom for granny to see.
Darcy is ten months old now, her life so far has been spent in and out of lockdowns but she's the happiest baby who adores crawling around after her big brother Sevé and stealing all his toys! They look for each other when the other isn't around and love getting up to mischief together. We will celebrate Darcy's first birthday on March 12th, a historic day for the country and we're praying things will look a little brighter by then. We're hoping Darcy can get to know her extended family and grannies very soon and we look forward to telling her about the historic day she made her entrance, when all of this is a distant memory!